Avicanna Reports Third Quarter 2020 Financial Results and Provides Corporate Update
/NOT FOR DISTRIBUTION TO UNITED STATES NEWSWIRE SERVICES OR FOR DISSEMINATION IN THE UNITED STATES. ANY FAILURE TO COMPLY WITH THIS RESTRICTION MAY CONSTITUTE A VIOLATION OF UNITED STATES SECURITIES LAWS/
Another double-digit increase in revenue quarter over quarter as the company continues to execute on its business plan to commercialize its brands in different geographic markets and product segments.
Successful launch of the RHO Phyto line of advanced medical cannabis products nationwide in Canada in partnership with Medical Cannabis by Shoppers Drug Mart Inc.
Good Preparation Practices certification and authorization by the National Institute for Drug and Food Surveillance ("INVIMA") for the sale of compounded pharmaceutical products to service medical prescriptions of individual patients in Colombia.
TORONTO, Nov. 12, 2020 /CNW/ – Avicanna Inc. ("Avicanna" or the "Company) (TSX: AVCN) (OTCQX: AVCNF) (FSE: 0NN) a biopharmaceutical company focused on the development, manufacturing and commercialization of plant-derived cannabinoid-based products announces results for the third quarter ended September 30, 2020.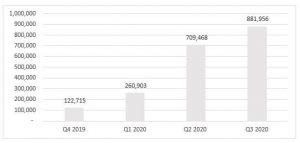 Aras Azadian, Chief Executive Officer of Avicanna, commented "We are thrilled to report the tremendous progress our team continues to make in our commercialization and research efforts. During the third quarter, we were able to demonstrate the superiority of our technologies and products with several strategic commercial partnerships but also with an incredibly successful launch of our medical products in the Canadian market."
Third Quarter Highlights
The Company continued to make strides in its strategic commercial initiatives, leading to an increase in revenue of approximately 24% from Q2-2020, continuing the trend of double-digit growth, quarter over quarter from Q4-2019. In addition, the Company was able to reach a major milestone with the launch of certain products from its RHO Phyto product line in 

Canada

 and further diversified its revenue streams. Below is a summary of the revenue trend over the last four quarters.
Avicanna launched the first product of its RHO Phyto branded line of medical cannabis products on the Medical Cannabis by Shoppers™ ("Shoppers") platform on 

August 12, 2020

. As of the date of this MD&A, Avicanna has launched its oil drops and sublingual sprays, for a total of four SKUs, through the Shoppers online platform, which offers nationwide service to Canadians.


Certain of the RHO Phyto products are participating in the Medical Cannabis Real-World Evidence study ("MC-RWE study") at the University Health Network ("UHN"). This first-of-its-kind Canadian study is led by Dr. Hance Clarke, Director of Pain Services at 

Toronto

 General Hospital, and will examine the efficacy of a select group of medical cannabis products including Avicanna's RHO Phyto line of products on patient reported outcomes of pain, sleep and anxiety. This specific study is aligned and in parallel with Avicanna's comprehensive clinical program of other real-world evidence studies involving the RHO Phyto products and clinical trials on its pharmaceutical pipeline with world-class, 

Toronto

-based medical institutions.


The Company hosted its third annual symposium, "Medical Cannabis 2.0", through a virtual format on 

July 21, 2020

. The presentations focused on the evolution of medical cannabis including the Avicanna led advancements in R&D for novel cannabinoid delivery forms and formulations. Presenters including Dr. 

Ruth Ross

 (Professor and Chair, Department of Pharmacology & Toxicology, Faculty of Medicine, 

University of Toronto

, Senior Scientist, Campbell Family Mental Health Research Institute, Centre for Addiction and Mental Health) and Dr. Hance Clarke (Staff Anesthesiologist, Director Pain Services, Director Good Hope Ehlers Danlos Clinic, Medical Director of The Pain Research Unit, Department of Anesthesia and Pain Management, 

Toronto

 General Hospital, University Health Network, Associate Professor, Department of Anesthesia, 

University of Toronto

). Over 1,000 participants attended the symposium.


The Company announced on 

September 14, 2020

 that through Avicanna LATAM S.A.S., the Company's pharmacy in 

Bogota

 has been certified with Good Preparation Practices and authorized by INVIMA for the sale of compounded pharmaceutical products to service medical prescriptions of individual patients in 

Colombia

. This is the final step in the Company's fully integrated seed to patient business model in 

Colombia

, which includes cultivation, extraction and manufacturing of pharmaceutical products for the emerging medical market of 50 million people.


Avicanna announced on 

July 24, 2020

 that its research collaborators had received two independent peer-reviewed grants from the Natural Sciences and Engineering Research Council of 

Canada

 ("NSERC"). In addition to a recent MITACS award, Dr. 

Christine Allen

, a Professor at the 

University of Toronto

, was awarded an NSERC grant for development of cannabinoid-based pharmaceutical formulations for the treatment of COVID-19 induced lung inflammation. Avicanna further expanded its existing neurobiological research collaboration with Dr. 

Jibran Khokhar

, a Professor at the 

University of Guelph

, with a 2-year NSERC grant to investigate the neural basis of cannabis-induced toxicosis. The NSERC grants are being used to expand the investigators' collaborative research with Avicanna at little to no additional cost to the Company.


Avicanna and 

Red White

 & Bloom Brands Inc. ("RWB") entered into a distribution agreement (the "Distribution Agreement") on 

August 11, 2020

, for the exclusive distribution of Avicanna's hemp-based CBD derma-cosmetic and topical products, branded as Pura H&W™, by RWB in 

the United States

 and certain other markets. Under the Distribution Agreement, which has an initial five-year term, RWB will exclusively distribute the Pura H&W™ brand and certain other white label brands at RWB's direction. In exchange for this exclusivity, RWB is required to pay Avicanna an upfront exclusivity fee in the amount of 

CAD$250,000

 in cash, along with minimum purchase requirements for the rights to be the exclusive distributor of Avicanna's Pura H&W branded cosmetic products in the US. Under the Distribution Agreement, RWB also has the right to purchase Avicanna's cosmetic products for distribution into 

the United States

 and certain other territories under brands of RWB's choosing. The initial product offerings under the Distribution Agreement includes body and face lotions, cosmetic creams, gels and serums, as well as soaps and bath bombs.


The Company issued an aggregate of 1,952,410 units (the "August Units") at a price of 

$1.40

 per August Unit, for aggregate gross proceeds of approximately 

$2.7 million

 on 

August 18, 2020

. Each August Unit was comprised of one Common Share and one-half of one Common Share purchase warrant, each whole warrant exercisable into one Common Share at a price of 

$2.00

 per share until 

August 18, 2022

, subject to acceleration rights.


The Company announced on 

August 24, 2020

 that it completed exports of CBG and CBD isolates into the 

USA

 and CBD isolate into 

Germany

. The Company also commenced a pilot tracking system for the export of its active pharmaceutical ingredient products in partnership with TruTrace Technologies Inc.


The Company announced on 

September 4, 2020

 that it completed further exports of CBD water soluble formula into the 

USA

 and CBD-based cosmetics into the 

United Kingdom

. The Colombian Ministry of Health also granted SMGH a commercial and industrial fabrication quota to produce psychoactive THC derivatives.


The Company announced that it entered into an agreement with a US distributor partner on 

September 29, 2020

, whereby the Company plans to develop certain hemp-derived cannabinoid-based products, including sublingual and sustained release tablets intended for the sleep market for such US distributor. Under the agreement, the Company is developing the intellectual property that forms the basis of the products for a development fee. The Company will receive an ongoing royalty payment based on the gross revenue of the products, and the Company will have the opportunity to supply cannabinoid for the manufacture of the products.


During the quarter, the Company incurred general and administrative (G&A") expenses that total 

$2,954,438

. While the Company's G&A expenses did marginally increase from the previous quarter, there were several expenses incurred that were one time in nature. Below is a summary of the adjusted EBITDA of the Company over the last four quarters, indicating its continued improvement.
| | | | |
| --- | --- | --- | --- |
| | Q1 2020 | Q2 2020 | Q3 2020 |
| Revenue | 260,903 | 709,468 | 881,956 |
| Adjusted EBITDA* | (3,063,524) | (3,641,496) | (2,608,063) |